Toshiba SHRM key features
The three-pipe VRF Super Heat Recovery Multi System (SHRM) delivers simultaneously cooling and heating and has exceptional energy efficiency. Toshiba SHRM heat recovery system offers a range of 10 outdoor models with capacities from 22.4 kW to 84 kW cooling and 25 kW to 95 kW heating. For ease of installation and cost saving the 8 and 10 HP units are modular. A very flexible and energy efficient option. 13 different indoor unit models available in 81 sizes ensure system flexibility.
Toshiba SHRM, 3-pipe VRF system with heat recuperation, were installed on many objects all over the world, for example:
Offices of large French station Pôle Gare

. Cooling capacity is 370 НР - more than 1 MW!
The West Strand business park, United Kingdom
Clarion Hotel, United Kingdom
SHRM range: heating and cooling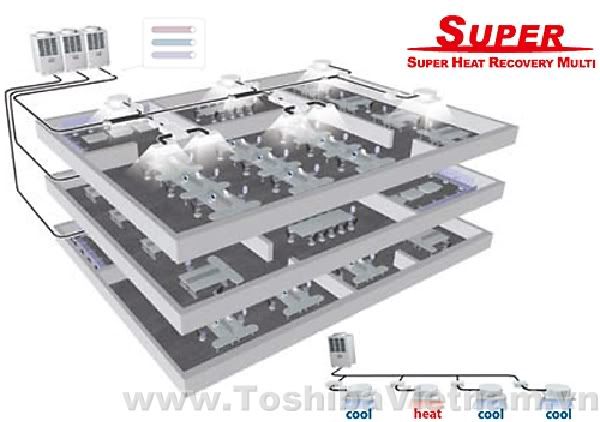 The Toshiba SHRM VRF system introduces important innovations with the possibility to provide simultaneous heating and cooling to different zones or rooms. They satisfy the most demanding needs and offer superior performances with COPs of 3.97 (8 HP), 3.61 (10 HP) and 3.68 (12 HP).
The compact flow selector (FS unit) enables the system to heat and cool simultaneously and can be used in restricted spaces. The cooling capacity range is from 22.4 to 84 kW and the heating capacity range from 25 to 95 kW. 
Dual DC twin-rotary compressor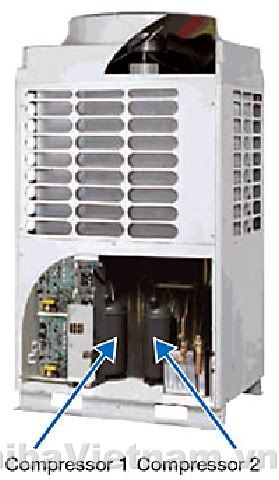 Toshiba sets new technological standards, incorporating DC twin rotary compressors in all SHRM outdoor units, compatible with the high density refrigerant R-410A. Thanks to the use of these dual-compressor systems, the system operation load is distributed more evenly, with a special controller regulating the operating sequence of outdoor units and individual compressors.
This innovative technology also allows optimisation and balancing of the operating time for each component, considerably enhancing the reliability of the complete system. When the system is in operation, the latest Toshiba control systems sel ect the heat exchanger and compressor to supply the required capacity in the most efficient way. This operating method can reduce the power input by up to 30% compared with a traditional on/off system. Contact Toshiba Vietnam: +84 4 665 88886 for more support.
Each SHRM outdoor unit features two inverter-driven twin-rotary compressors. A twin-rotary compressor has two fixed compression chambers. An off -centre roller orbits each chamber to squeeze the refrigerant. The two rollers are both mounted on the same shaft, but are off set to provide counter balance to each other. The contact force required between the roller and chamber wall is lowered. This means that smaller bearings can be used and lubrication demand is reduced, saving weight and making this type of compressor more suited to lowspeed operation.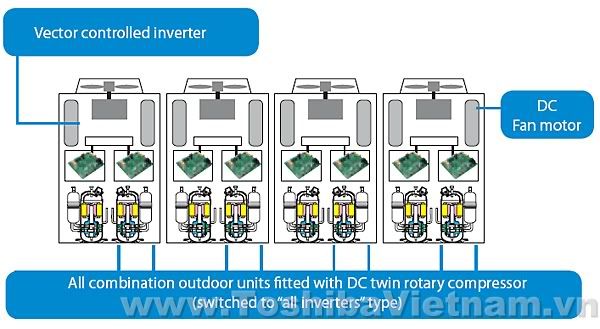 Toshiba active oil management system
The active oil management system developed by Toshiba continually monitors the level of oil in all compressors, should an oil shortage be detected in any compressor, oil is automatically transferred from a compressor in another outdoor unit. The two compressors in an individual SHRM outdoor unit are connected by way of an oil balancing pipe to ensure a uniform oil levels within the two compressors.
1) Oil balance control. This control equalizes amount of oil between two compressors.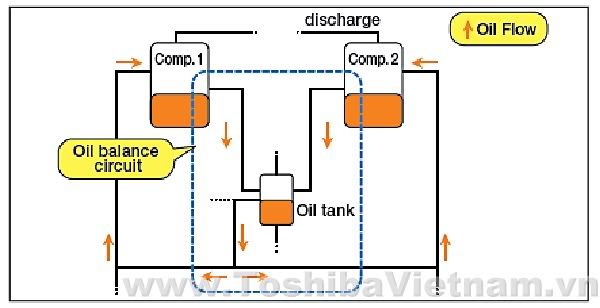 2) Oil supply control. This control accumulates oil in the oil separator. When oil is insufficient, the system supplies oil to the compressors.
3) Oil supply control between outdoor units. This control supplies oil accumulated in the oil tank of each outdoor unit to the outdoor unit with insufficient oil.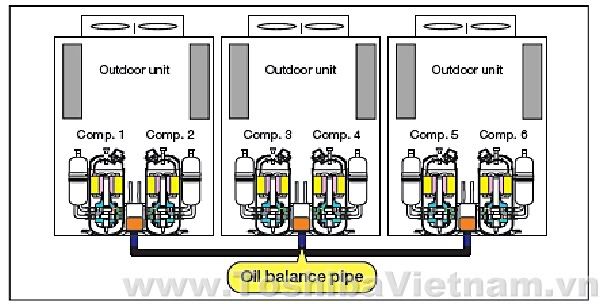 Flexible branching
The versatility of the SMMS means that virtually any configuration of the refrigerant Y-type branches and/or header piping can be used in an application to give the shortest, most cost-effective piping installation. The piping can be run in any direction to facilitate refurbishment work.
Line and header branching after header branching are Unique Toshiba's systems!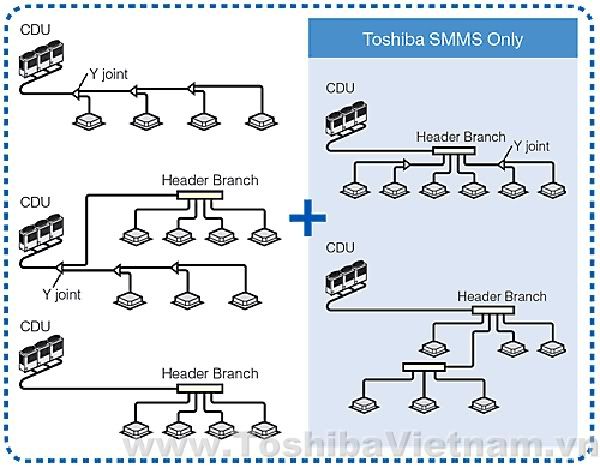 Extended piping capabilities of Toshiba SHRM system:
Maximum actual length - 150 m
Farthest equivalent length - 175 m
Extension - 300 m
Maximum height difference - 50 m (outdoor unit is higher than indoor unit)
Maximum height difference, outdoor unit is lower than indoor unit - 40 m
Maximum height difference between indoor units - 30 m
Maximum length from first branch - 65 m
Wide variety in SHRM indoor unit line-up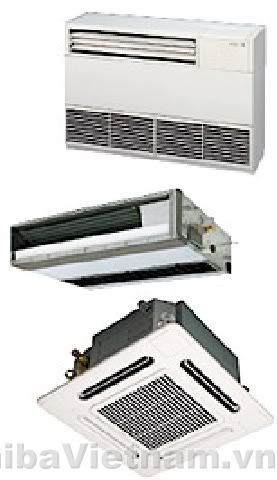 Up to 48 indoor units can be  connected to a single Toshiba SHRM system. There are 13 different indoor unit models available in 81 sizes. The large choice of indoor unit models and sizes compatible with the VRF range ensures the ideal solution for any application requirement.
The performances of all units are maximised: low sound levels, optimised air flows and the extremely compact design that reduces installation time and costs. Moreover, the recent additions to the range, the compact high-wall and the slim duct units, reaffirm Toshiba's commitment to create the perfect climate and well-being for business users. Toshiba provides the ideal climate and comfort levels, ensuring a healthy environment, high technology, maximised efficiency and modern design.
All indoor unit are applicable for all Toshiba VRF systems (SMMS, SHRM and MiNi-SMMS).
Cassette: 4-way cassette, compact 4-way, 2-way cassette, 1-way cassette
Ducted: standard, high static pressure, superslim, 100% fresh air intake
Ceiling
High-wall and compact high-wall
Floor-standing
Concealed
Toshiba SHRM protection devices
Discharge and suction temperature sensors
Internal overload relay
Compressor over-current relay
Over-current sensor
High pressure switch
Low pressure sensors
Technical Data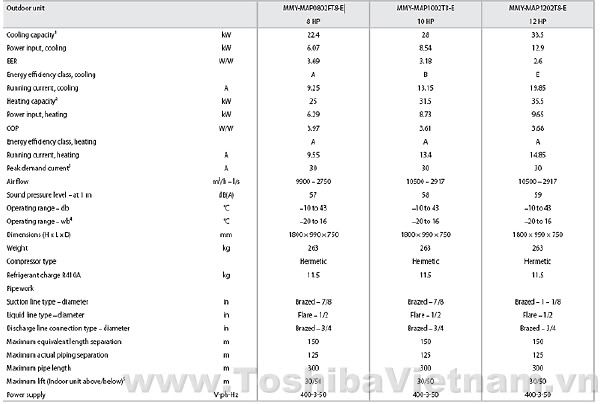 Model Line-up of Toshiba SHRM Outdoor Unit
| | |
| --- | --- |
| |   |
 

MMY-MAP0802FT8-E
22.4 kW (cooling)
25.0 kW (heating)

MMY-MAP1002FT8-E
28.0 kW (cooling)
31.5 kW (heating)

MMY-MAP1202FT8-E
33.5 kW (cooling)
35.5 kW (heating)

...

MMY-MAP3002FT8-E
84 kW (cooling)
95 kW (heating)

With its sophisticated technology of the R410A Super Heat Recovery Multi System, Toshiba offers superior application flexibility and unrivalled capabilities. Unique for Toshiba's outdoor units is the incorporation of two new DC twin-rotary compressors and dual-inverter drives. A sequence control ensures that the operating hours of all compressors are even. This increases the reliability, since the starting and operating loads are spread evenly.

3-PIPE SYSTEM



SIMULTANEOUS COOLING & HEATING
CFC-free refrigerant R410A
Two inverter controlled DC twin totary compressors
Superior energy efficiency ratio (EER) of up to 3,97
Higher reliability because of evenly spreading of operating hours between all compressors
Fail safe - in case one compressor drops out, the second one can continue the operation
Compact and light design of the outdoor units guarantee easy manoeuvrability on location.
Connectable indoor units: 48

 
---
High-wall Air Conditioner Selection Program
All information on the Site (the "Information") is copyrighted by Toshiba Vietnam and protected by law. Write "www.ToshibaVietnam.Vn" when release the information from this website. - Contact +84 4 665 88886 for more support!